KBI hopes to be able to purchase a digital TV transmitter for its Kotzebue operations. The first part of the operation was funded and purchased. The video server was purchased in 2013 and a transmitter was planned for 2014. Dute to building issues the money was not available to do so. We are still trying to locate funds to complete the project.

---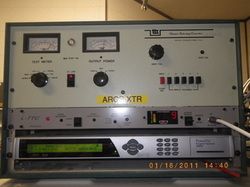 ARCS is a State of Alaska TV system that has transmitters in every village in Alaska. We here at KBI house and help maintain the system here in Kotzebue. The ARCS system will soon be upgrading to the Digital TV transmission system in the summer of 2016. With this new upgrade 4 free video channels will be available to all residents of Alaska.

---
The ARCS system will soon have a new Digital TV transmitter here in Kotzebue. KOTZ will be hosting this unit in our studios and hope to leverage its new capabilities for our community.